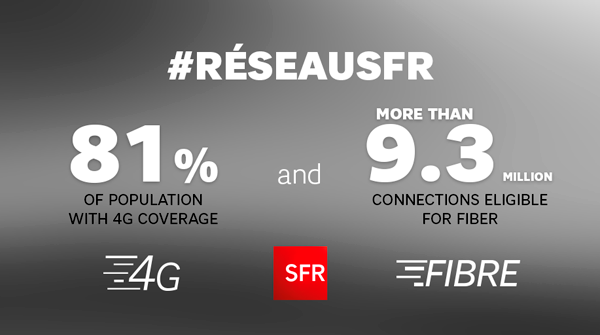 A year of record deployments for SFR, which benefited from Altice's investment capacity, industrial know-how and technological expertise
Leader in terms of 4G site openings in 2016, SFR now provides 4G coverage for 81% of the population (an increase of over 17 percentage points in one year). 
With 18 municipalities covered, SFR offers the most extensive 4G+ UHD 300Mbit/s coverage in France 
With the opening of over 1.6 million connections eligible for fiber (1) in 2016, SFR remains the leading fiber optic network in France with more than 9.3 million connections. 
For SFR, 2016 was an exceptional year in which its very high-speed networks saw an unprecedented expansion. To achieve its results, SFR benefited fully from the contribution of the Altice Group in terms of finance, industry and technology. The group's massive investments, its industrial investment vision, its intensive deployment expertise with Altice Technical Services and the contribution of the Altice Labs, the group's R&D center, enabled SFR to break production records and succeed in this year of reconquest.
4G/4G+: 2016, a record year for deployments
2016 was marked by an historic pace of deployment, unparalleled in the French telecoms market. With 5,248 new sites, SFR has switched on more new 4G sites than any other operator. This genuinely record output has enabled SFR to increase its 4G coverage by 17 percentage points to cover 81% of the population at the end of 2016. In the past year, SFR more than doubled its network of 4G base stations in France. This intense pace will continue in 2017 to offer 4G to 90% of the population by the end of the year.
Deployments completed in December reflect the huge increase in the density of the 4G network this year. Indeed, 1,099 new municipalities have been opened to 4G, which brings the number of additional municipalities opened in the course of this year to more than 8,700 (see list at the end of this press release).
4G+ UHD 300Mbit/s launched in May 2016 is already available in 18 municipalities
In May 2016 in Brest, SFR launched 4G+ Ultra High Speed, a technology that allows eligible users to benefit from a theoretical maximum speed 3 times faster than 4G (337.5Mbit/s). At the start of 2017, with 18 municipalities, SFR offers the most extensive 4G+ UHD 300Mbit/s coverage in France. Today 4G+ UHD 300Mbit/s is available in Brest, Clermont-Ferrand, Grenoble, Le Havre, Nancy, Nantes, Metz and in 11 municipalities in the Paris Region.
With a compatible terminal, the uses are accelerating considerably: a series of 10 episodes downloads in 2 minutes when it takes 6 minutes in 4G, 100 photos in 10 seconds compared to 30 in 4G.
In addition, the Ultra-High-Speed mobile allows all SFR customers equipped with 4G in the covered area to benefit from an increased average speed. Indeed, this technology, a development of the 4G standard, combining three 4G frequency bands increases the total capacity of the 4G network and so increases the speeds it offers for everyone. Thus, with the arrival of Ultra-High-Speed mobile, customers equipped with 4G naturally benefit from a significant improvement in the quality of service and comfort of navigation.
Fiber: 1.6 million fiber connections opened in more than 270 municipalities
In the course of 2016, 1.6 million homes and business premises were made eligible for fiber (FTTB/FTTH). In one year, 270 municipalities have benefited from the arrival of fiber, bring the number of districts with access to SFR fiber services to more than 1,300.
In December, 182,000 additional homes and business premises were made eligible for fiber, one of the best monthly performances of the year. These new connections are distributed in 83 municipalities. They include 24 having access to fiber for the first time, like Cugnaux and Mitry-Mory, and 59 have benefited from extended coverage like Annecy, Cognac, Hénin-Beaumont and La Rochelle (see lists at the end of this press release).
SFR is France's leading FTTB/FTTH provider with more than 9.3 million eligible connections(1) and – thanks to its massive investments – intends to stay ahead with its rollout plan to reach 11 million eligible connections in 2017.
Michel Paulin, SFR Telecom's CEO explained, "In 2016, huge investment combined with the magnificent mobilisation of SFR teams made it possible to achieve historic levels of deployment. SFR is now engaged in a methodical and intensive drive to deploy fixed and very high speed mobile networks. In 2017, we shall maintain this pace and continue our investments in order to guarantee our customers ever more high performing networks and ever more innovative services."
4G+ and 4G+UHD 300Mbit/s are accessible at no additional cost to SFR customers with a 4G package deal and a compatible terminal. Eligibility to fiber, mobile coverage and details of the service offerings are available on sfr.fr.
(1)Number of eligible households with fiber-optic or coaxial terminals, as applicable.
APPENDIX
Full list of municipalities and stadiums covered by Ultra-High-Speed mobile (4G + UHD):
Asnières-sur-Seine, Aubervilliers, Boulogne, Brest, Clermont-Ferrand, Clichy, Grenoble, Issy-les-Moulineaux, Le Havre, Metz, Montreuil, Montrouge,Nancy, Nantes, Palaiseau, Sartrouville, Suresnes and Vitry-sur-Seine. 
Stadiums: Bordeaux Matmut Atlantique stadium, Lens Bollaert-Delelis stadium, Lille Pierre Mauroy stadium, Lyon Stade des Lumières, Marseille Stade Vélodrome, Nice Allianz Riviera stadium, Saint-Etienne Geoffroy Guichard stadium, Toulouse Stadium, Paris Parc des Princes stadium and Stade de France in Saint-Denis.
4G – December 2016
The new municipalities of more than 5,000 inhabitants covered by SFR's 4G network in December 2016: 
Aix-les-Bains, Autun, Auxonne, Bar-sur-Aube, Châtenoy-le-Royal, Châtillon-sur-Seine, Clermont-l'Hérault, Combourg, Cranves-Sales, Creil, Digoin, Elne, Épernon, Faulquemont, Faverges, Florange, Gignac, Guénange, Laon, Guise, Guilherand-Granges, Hirson, Honfleur, Laon, Montataire, Montbard, Paray-le-Monial, Pornichet, Prades, Reignier-Ésery, Saint-André-de-Sangonis, Saint-Julien-en-Genevois, Sciez, Sézanne, Vitré, Thionville, Sciez.
N.B. Consolidation of new 4G+ towns and cities for December is currently still in progress, the list will be published in the next monthly report in the the third week in February.
Fiber – December 2016
New municipalities covered by SFR's fiber network in December 2016:
Ablon-sur-Seine, Annay, Auchel, Avion, Bailleau-Armenonville, Carbon-Blanc, Coubron, Courcelles-lès-Lens, Cugnaux, Divion, Dourges, Drocourt, Évin-Malmaison, Fosses, Harnes, Lattes, Leforest, Maisnil-lès-Ruitz, Marly-la-Ville, Mitry-Mory, Pimprez, Ruitz, Verberie, Villeparisis.
Municipalities where the fiber coverage has been extended in December 2016:
Amiens, Angers, Anglet, Annecy, Asnières-sur-Seine, Avignon, Avion, Barlin, Bassens, Bayonne, Besançon, Bruay-la-Buissière, Bron, Bruges, Caen, Calonne-Ricouart, Capavenir Vosges, Carbon-Blanc, Cenon, Chambéry, Clichy, Cognac, Courbevoie, Divion, Dourges, Floirac, Gagny, Haillicourt, Harnes, Hénin-Beaumont, Houdain, Issy-les-Moulineaux, La Madeleine, La Rochelle, La Seyne-sur-Mer, Le Bouscat, Le Mans, Limay, Lormont, Lyon, Mantes-la-Jolie, Marles-les-Mines, Marseille, Neuilly-sur-Marne, Nice, Nîmes, Orléans, Paris, Pont-Sainte-Maxence, Puteaux, Rezé, Rueil-Malmaison,Saint-Cyr-l'École, Saint-Martin-d'Hères, Saint-Quentin, Strasbourg, Toulouse, Villefranche-sur-Saône, Wattrelos.

Français