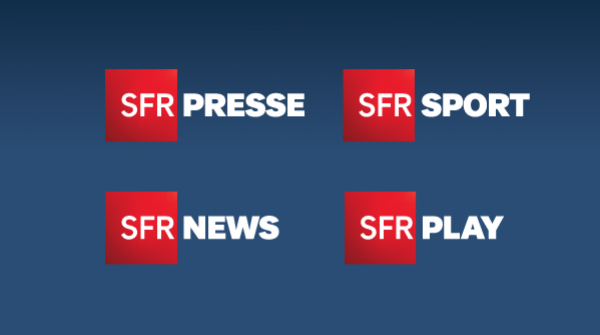 SFR expands its fixed and mobile services and content offers
SFR PRESS, SFR NEWS, SFR SPORT, SFR PLAY
 
SFR is formalising its new offers, unveiled at the presentation of the new SFR on 27 April, which now include all services and content.
Driven by the performance of its high speed broadband fixed and mobile networks, SFR is developing decidedly different offers based on its expertise in the convergence of telecoms and media content in order to provide the only product offer of its kind on the market.
Concerned with its customers' expectations and usage habits, SFR is constantly innovating and investing (the 4K Box with a better quality image, speeds up to 1Gbit/s on fixed and mobile deals including up to 40Gbytes) to offer its customers a wealth of unique content and services.  
The 4 thematic cornerstones of the new SFR 
SFR is now the first content operator in France to revolutionise usage habits and offer its customers  rich and diverse content accessible in multi-screen view.
From today, SFR PRESS, SFR NEWS, SFR SPORT and SFR PLAY* services will incorporate SFR's fixed and mobile offers.
Mini Starter Deals from €5.99/month, Starter at €20.99, Power at €30.99/month, Power+ at €37.99/month, Premium from €64.99/month.
Price ex. tax without mobile for a period of 1 year, with a 12 month contract** from 07/06 to 04/07/2016 inclusive.
Power Deal at €29,99/month, Power+ at €39,99/month, Premium at €51,99/month.
Price ex. tax without mobile for a period of 1 year, with a 12 month contract. Excludes box rental.
SFR PRESS: Unlimited access to 17 press titles
With its SFR PRESS app launched on 27 April, SFR offers 18 million of its customers unlimited access to a diverse high quality range of newspapers and magazines. Available in a digital version and on all devices (TV, mobile, tablet, PC), SFR PRESS is responding to its customers' new, "on demand", consumption patterns.
Included from Starter Deals and above, SFR PRESSE will also be offered at €19,99/month.
SFR NEWS: launch of a continuous sports channel and all the Euro news
Announced on 1 June, the sports news channel BFM SPORT will expand the rolling news channels of SFR NEWS, which includes BFM TV, BFM Business, i24 News in HD and coming soon, BFM PARIS. With the launch of this rolling sports news channel, SFR provides its customers with the best coverage of the latest news and economic, international and sports information.
Included from Power Deals and above. SFR NEWS will also be offered at sera €4,99/month.
SFR SPORT: launch of a package of brand new sports channels and 100% sport app
The launch of the SFR SPORT package confirms SFR's commitment to offer its customers a top quality TV experience with live and multi-screen viewing of major competitions in the leading sports. Fixed and mobile customers enjoy, at no extra cost, the channels SFR SPORT2, SFR SPORT3 and SFR SPORT5 available from the SFR Box and the SFR SPORT app.
Included from Power Deals and above. SFR SPORT will also be offered at €9.99/month.
As part of the operation "SFR à volonté" [SFR unlimited], SFR is offering all its customers the opportunity to enjoy SFR NEWS and SFR SPORT, from 09 June to 07 September.
SFR PLAY: entertainment unlimited 
Launched in May, SFR PLAY offers the major film, discovery, serial and children's channels for all the family together with the best apps with SFR Extras (Napster, LeKiosk, L'Equipe, SFR Jeux, iCoyote).
SFR customers also benefit from unlimited access to the ZIVE catalogue, the leading SVOD service in France with more than 8,000 titles for all the family. Central to the content of SFR PLAY, ZIVE is continues to be expanded regularly and in the Autumn will offer new, exclusive and 4K/UHD programmes such as Medici: Masters of Florence as well as new series.
Available on the SFR TV app. Included from Power+ and Premium and above.
Content accessible in multi-screen mode 
To enable its customers to access the SFR PRESS, SFR NEWS, SFR SPORT and SFR PLAY universe from the web, SFR is launching the SFR NEWS portal. Accessible in mobile and tablet version, this portal provides a wealth of "hot" news and items linked to the themes of the new SFR:
#SPORT: fifty or so sports items from the RMC SPORT editorial team and the SFR SPORT app with videos, analysis and the scores in the top sports competitions;
#NEWS: a hundred or so items and videos to illustrate the news of the day (politics, society, economy, world, etc..), entertainment (film, series, TV), high-tech new, people and even travel and  interior design ideas;
#PRESS: unlimited access to 17 titles on the SFR PRESS app from the Web reader;
#PLAY: for the ZIVE catalogue and its programmes for all the family, new releases, Carte Blanche, StudioCinéLive's selection of the month.
* SFR FAMiLY! Customers sharing from 26 April a single package of 40 Gigabytes of data and their Extras with other lines in the same household will enjoy additional services (with SFR NEWS, SFR SPORT, SFR PRESS).
** Without Multi-Deal discount (-€5 discount for Starter Deals and -€10 for Power and Premium Deals) and without number portability discount (-€5 for 1 for new customers, from 1Gb Starter).
Terms & Conditions and details of offers on: www.sfr.fr 

Français