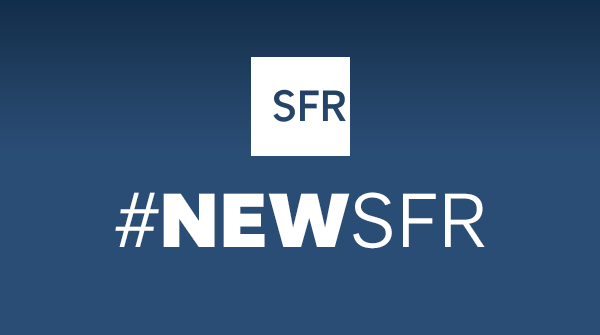 SFR introduces global convergence: telecoms / media-content / advertising
Five pillars to deliver on this new promise: SFR PRESSE, SFR SPORT, SFR NEWS, SFR PLAY and SFR FAMiLY!
Michel Combes, SFR's CEO and Altice's Chief Operating Officer, and Alain Weill, CEO of NextRadioTV and head of Altice Media, announced the birth of the new SFR: the first operator in France to embody telecom / media-content convergence.
The time is right for successful convergence: the technology performs, the networks are powerful and digital tools have become central to our lifestyles. The evolution of media's and telcos' business models makes these two industries' alliance inevitable, if they are to rise to the challenges ahead.
SFR now holds all the cards to succeed in the fullest of convergences: a super-powerful infrastructure comprising France's leading Fiber network (8 million connections) and the country's fastest growing 4G network in the past two quarters (90% of the population covered in 2017), diversified, exclusive content thanks Altice and a unique distribution network thanks to the potential provided by 18 million customers. This exceptional commercial striking force will transform the world of media by enabling everyone to have a true newsstand at home and by creating a sustainable business model for the press.
With convergence, SFR becomes a true content publisher. The operator's content, some of which is available today, is divided into five major thematic services that aim to deliver the best of convergence.
SFR PRESSE: unlimited access to the press
Starting today, all SFR customers can access on any screen a broad, diversified, high-quality range of magazines and dailies, properties of Altice Media Group. Available on mobiles and tablets (Android and iOS) as well as PC/Mac, the SFR PRESSE application provides unlimited online access to a broad choice of popular editorial content (news, information, new technology, literature, entertainment, home decoration, etc.). Its simple, intuitive navigation and a responsive design ensure an unrivaled reading experience, including offline. Other periodicals can gradually be added to SFR PRESSE and non-SFR customers can subscribe for €19.99/month, VAT included.
SFR SPORT: a bundle of new sports channels and the SFR SPORT app
Leveraging the rights acquired to national and international sports events, SFR is now consolidating its strategic positioning with the launch – between June and August 2016 – of a bundle of five channels entirely dedicated to sports. With more than 100 disciplines, over 1,000 events and 3,000 hours of live coverage, they will provide customers and fans with a unique viewing experience, thanks to a broad choice of exclusive content and events covered by the best journalists and sports consultants.
SFR Sport1, the 100% football channel, with in particular the Premier League;
SFR Sport2, with the best of sports exclusive to SFR (Aviva Premiership rugby, Pro A basketball, tennis, ski, etc.);
SFR Sport3, dedicated to extreme sports;
SFR Sport4K, for the best of SFR Sport content in 4K resolution;
SFR Sport5, for martial arts.
Naturally, these channels are accessible to other distributors, who can offer them to their own customers.
SFR NEWS: France's TV news hub
Already a leader of 24-hour news with BFM TV, BFM Business and i24 News, the group is introducing two new channels: BFMTV Sport on 7 June ahead of the Euro 2016 and BFMTV Paris in October. Offering general, local, sports, business and international news, SFR NEWS will deliver a novel experience of TV and news. On this occasion, i24 will become an HD channel.
SFR PLAY: a broad choice of quality entertainment
The world of SFR PLAY will invite customers to enjoy the best entertainment, with the greatest dedicated channels and many shows for the whole family (TV series, cinema channels, discovery, etc.), both live and in replay mode, as well as the best apps with SFR's Extras.
Central to SFR PLAY's content, ZIVE is expanding its offering. France's leading SVOD service will unveil this fall – as an exclusive – the Medici: Masters of Florence series with Dustin Hoffman in 4K resolution. Moving forward, Altice's subsidiary HOT will adapt and co-produce TV series in France, leveraging its recognized expertise (Sirens, Zagouri Empire) and backing French and European talent to create original series, starting next year.
SFR FAMiLY!: a revolutionary offering for the entire household
SFR FAMiIY! meets the expectations of multi-device families. This innovative, generous, affordable and user-friendly service is the first in France to offer a new experience for the whole family: up to 40 GB of mobile internet to be shared with loved ones, as well as content sharing and SFR's Extras on all the household's lines. SFR FAMiLY! also gives control over the Internet use of each line in the household, as well as of the final bill. Users manage the services independently from a single application, SFR Mon Compte (details and conditions on sfr.fr).
SFR will introduce in June the new ranges of offerings including these services and content, both on mobile and fixed-line connections – except for SFR PRESSE and SFR FAMiLY!, which are available now.
By June, some content of the SFR NEWS, SFR SPORT and SFR PLAY bundles will be added to the existing offerings, as it becomes available.
In the coming five months, all fixed and mobile SFR customers will discover the wealth of content on offer during an introductory month of free viewing, timed to coincide with major events (the Cannes Film Festival for SFR Play, the Euro 2016 for SFR NEWS, the Premier League for SFR SPORT, etc.).
SFR is writing the future of the telecom, media and advertising industries. Together, telecom, media and advertising are stronger and better able to offer their customers unique services that meet their expectations and requirements. Convergence is happening now.

Français